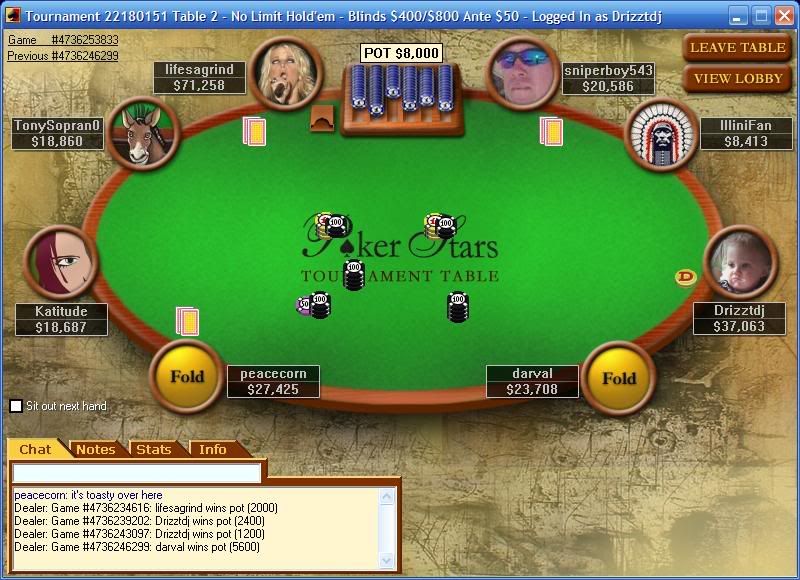 I watched half dark, half illuminated Maples and Pines rush by a little more closely this morning. Most windows were cloaked by blinds but displayed a flicker of the television set being turned on by people watching their favorite morning show (or "wake and spank" made popular by a certain douchebag hater).

Wyatt sat in the back audibly complaining about not having his blanket and Mr. Octopus. After Wyatt was safely in Nana's capable hands, we drove off to work and I continued to look out at a morning drive that we've made several hundred times. The "tagged" Junior High School stone-slab name plate that some janitor tried to clean, the church where I spent my Wednesday nights learning about a religion that I admire but don't practice, and the Perkins family restaurant with the painted windows exclaiming "KIDS FREE TUESDAY WITH ADULT PURCHASE OF AN ENTRÉE 6-11" and remembering the last call-after hours that me and my friends spent there sobering up from another night out. "Yes, I'll have the ham and cheese omelet with hash browns again" was my usual request.

After arriving at my place of employment, the wispy orange, white, and grayish clouds shown outside my office window deserved a second look since it was not imperative that I be at my desk since most of my vendors are still asleep. I look at the blinking cursor on Microsoft Word this instant and wished I was writing about how I would be coming out to Vegas in July now that I won a WSOP qualifier. But, instead I see my faint reflection on my blank laptop screen from last night after I closed down the chat windows and PokerStars, showing a face of both triumph and defeat.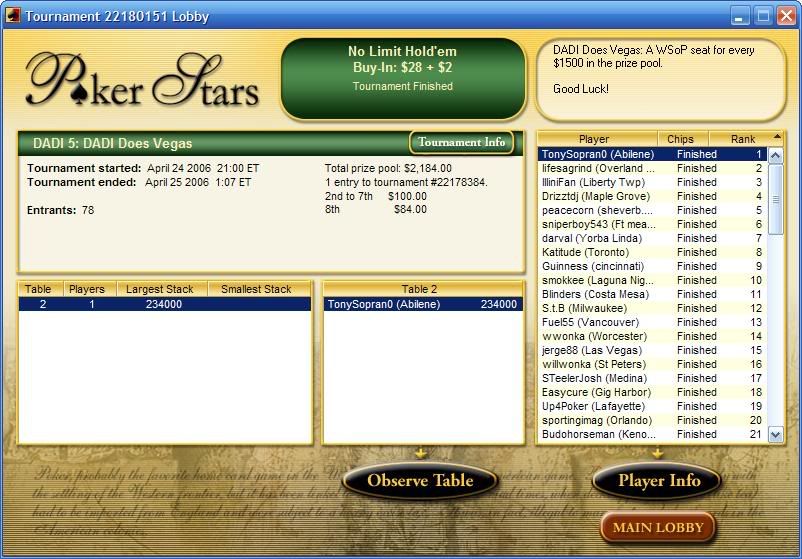 "You played a good game"



Congrats to TonySoprano (updated, thanks Jordan!) on a fine tournament. Make sure you do us proud in July by bluffing Hellmuth off his straight flush with the hammer and assisting him with any spelling errors when he rants.

Right now I'm pretty beat mentally and physically. I played to the best of my abilities last night and came away relatively empty. I AM gracious for the extra prizes laid out by Poker Source Online (see banner above), I'm not sure what PSO points are or what you can do with them but I'm sure it will take a little sting out of missing my ticket to the show.

Thanks for dropping by, now on your way home from work today, look out the window and take in a bit of the scenery once you get off the interstate. It may change the way you feel about your daily commute. A special thank you for those cheering me on last night, especially the kind words that make me willingly bend over for Mistress Variance's next whip and chain session.

Play perfect poker.