Poker wise, good. Relaxing? No.
The weekend started off fun enough as the company threw their annual summer picnic for all of us cube monkeys. Cold cut sammiches, plenty of things to drink, and chance to see that hottie from Accounts Receivable in tight shorts and a revealing tank top. After the half hour ride I was informed there would be games to play for various trinkets.
I like games, and I like trinkets.
I weasled my way into the Bocce ball tournament. For those who do not know what Bocce ball is... basically each player gets two balls that weigh a little more then a softball and less then a shot put. You throw a smaller cue ball and the object is to roll/throw your ball closest to the cue ball, similar to horseshoes. I rock at this game and our pair managed second place after beating three other teams. The finals were against two shapely interns and unfortunately I lost concentration more then a couple of times. It didn't help that they were pretty good at the game as well. After the games were done and the general awkwardness of being around co-workers that you barely know outside of your department wore thin on my patience, a group of us hit up a little hole-in-the-wall bar. Hmmmm... what's that I smell? Smoke? Interesting, smoking inside of a bar! Let me say first that its great to be able to down a few drinks and not go home smelling like ass, but I do miss it for unknown subconscious reasons. I'm sure smoking readers of this blog will huff and puff about not being able to smoke in a bar in Minnesota (well... Hennipin County at least), but honestly, its nice to be able to bring Little Drizz into my softball sponsor's bar and not have to worry about the second-hand smoke.
Forgive me if I ramble and go off in weird tangents today, I'm iPod-less and can't concentrate without REO Speedwagon telling me to
Take It On The Run baby, if that's the way you want it baby.
Friday, I spent most of the day with the dear and patient drill sergeant, I mean wife, as we collected the items needed for the yard work to be done on Saturday and Sunday. You see, I had this vision, me at the big table with Doyle to my left, and Ivey to my right sitting at the World Series of Poker, and I let that vision blind me while in the Kitchen and Bath department at
Home Depot
. Instead of my usual morning and afternoon of tossing virtual chips on a Friday, I spent it looking for a new vanity and edgeing for the yard outside. Attempts to log on after getting home were twarted by stern words coming out of the wife's mouth. Yes, I love you too hon.
Saturday, I don't remember much of what happened since I had a mild case of heatstroke from working outside for nearly 10 hours straight. Attempts to go inside to check on Tiger's dominance in the British Open were met with guilt-riddled wordings by the wife. Luckily, I managed to grab a backbone and had a little chat about overdoing the micro-managing while people are just trying to help. I doubt she even knows how over-bearing she comes across when there's something she wants finished.
Here's a little look at how far we've gotten, next step is laying some sod, building a swing set for Little Drizz's birthday next month, and doing some more landscaping along the fences.
Before...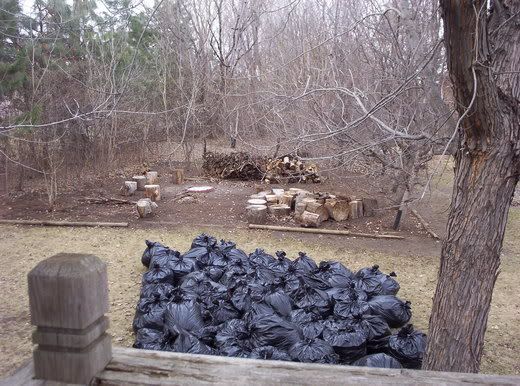 And after...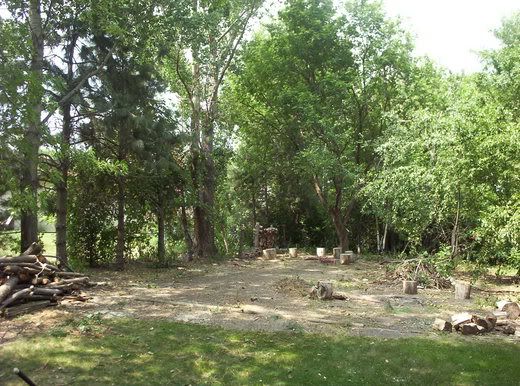 Its not a finished "after" but definitely a step in the right direction. Now that most of the grunt work in done we can move on to fun stuff like edgeing, laying sod, and splitting logs WHOO WHOO!!
Sunday morning, more of the same, try to watch Tiger, hear crack of the whip to go back out in the yard to haul more wood (the logs you see on the left hand side were split up and moved the far left hand corner). Did you know that Pine tree sap is sticky? Amazing scientific stuff you learn here, I'll be taking over
Bill Nye
soon! In fact, this morning a baseball player could use my right arm as a pine tar rag. You know that great smell of pine you get after first opening one of those $.49 car air fresheners you buy at a gas station? The smell was cool for about five minutes, after that I wanted to rip up that damn cardboard tree.
Sunday afternoon was the only semi-relaxing part of my weekend since we went up to my parent's cabin to get my brother and dad ready for their
demolition derby
(which is the reason I was absent for Charlie's tourney). Sis-in-law brought up their boat to relax on till the event and even though it was only an hour and we got downpoured on, me and Burnsie took turns catching lili-pads and me tangling up my line a billion times while fishing, always fun. By the time the event was ready to start, Little Drizz decided he didn't want to go. So, instead of downing some macro-brew sold by the American Legion and some overcooked cheese curds while watching old cars smash into each other, we went home. I was disappointed about not being able to go, but I don't think spending $40 to hold down a screaming toddler for two hours after working hard all weekend was + EV.
Brief Poker content!!
While nut peddling PLO8 at BoDog, I managed to win a couple of stacks and I'm finally starting my lengthy climb out of the red. I'm beginning to think Hold Em' just isn't my game and will probably be sticking with Omaha for a while.
Stars is proving to be my favorite site still, I can't get away from these dollah MTTs and their NLO8 games. I placed 19th out of 1049 (bubbling for that extra $5!!!!) in a NLHE tourney. And I played a little Stud tourney last night for a 97th out of 519 finish. Happy about my Stud playing and fell short due to a runner-runner-runner-runner straight. Yes, those pocket 9s are good when I'm showing a pair of Aces, keep betting until you hit that straight. Damn fucktards.
I'll leave you with a spot of drinking advice today...
Peppar Absolut
+ OJ = suck
Thanks for dropping by, now go hug your kid today :)